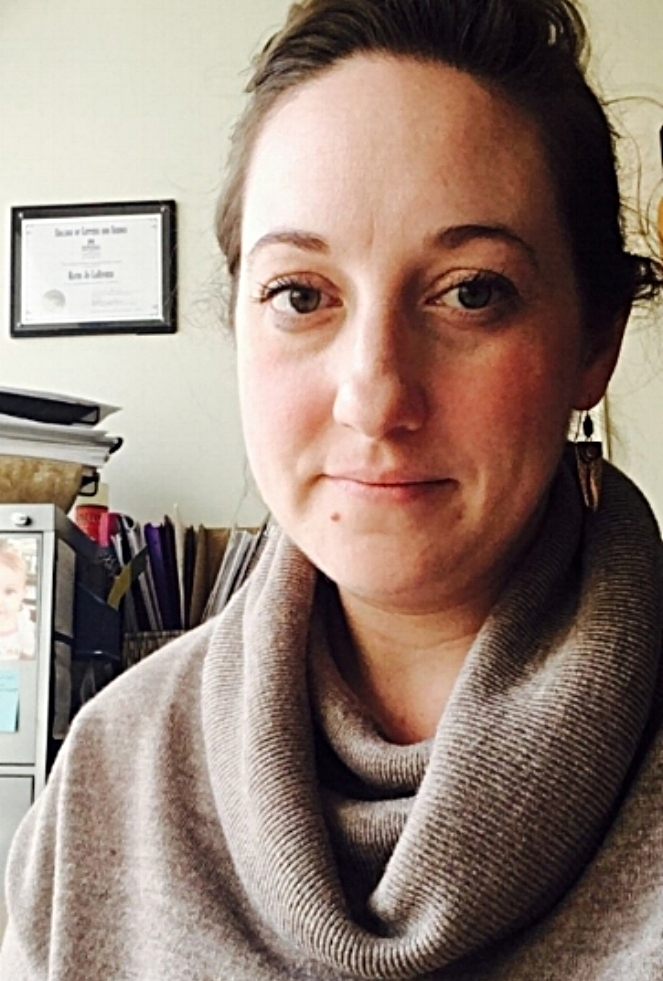 A Dissertation Fellow with the Oregon Humanities Center, LaRiviere is in her final year of doctoral study in medieval literature in the department of English at the University of Oregon. Her work engages the question of selfhood in medieval culture through the interdisciplinary study of literature, theology, and philosophy. In conversation with Early Modern texts and their critics, her research focuses on the concept of self and personhood as it develops into the Reformation period.
LaRiviere has scholarly publications in both literature and writing pedagogy. She has presented research from her dissertation, "The Medieval Person: Concepts of Self and Personhood in Late Medieval English Literature," and other projects at several conferences. These include the annual gatherings of the Medieval Association of the Pacific and the International Congress on Medieval Studies, where she will return in 2019. LaRiviere was invited to present her research on composition pedagogy and assessment practices at CUALHE 2018. She also recently contributed an invited interview on medieval culture for the Victorian Scribblers Podcast.
A Graduate Teaching Fellow at both the University of Oregon (Ph.D) and, previously, at Montana State University (MA), Katie Jo has eight years experience teaching literature and writing to university students and a Certificate in College Teaching from the department of education at MSU.
Her service to the university and wider community includes mentoring teachers and participating on multiple committees. She also co-founded the Stein-Bowman Society, a reading group that brings together scholars and lay readers to discuss philosophy and literature by and about women.
"LaRiviere models self-discipline and intellectual achievement. She consistently demonstrates thoughtful and rigorous ways of engaging ideas."
— Dissertation Committee Member
In a debate significant for both its stakes and longevity, medievalists and early modernists have engaged the question of selfhood and argued about its ostensible "beginning." Scholars on both sides have imagined the medieval concept of selfhood as fundamentally shaped by political systems of national violence or various programs of social control. Within this imagination, the critical concept of selfhood has assumed its modern definition, which equates selfhood to "agency" and associates the self with choice, mobility, and power. Such assumptions perpetuate the notion that medieval selfhood was underdeveloped for those with limited social power and implicitly value white, male, and classed subjects as "selves." In this way, our criticism has reinforced modern biases via scholarship, and have imposed these values upon the past. Additionally, these critical assumptions have led to problematic views about medieval conceptions of the "person" in conjunction with race, gender, and key medieval social institutions, especially the church.
My current project, "The Medieval Person: Concepts of Self and Personhood in Late Medieval English Literature," confronts these assumptions and shows how these texts instead define selfhood and identity in accordance with the Christian concept of a relational and Trinitarian God: for them, relationship with God and neighbor is the basic frame of the self. In readings of three late medieval texts, the morality play of Wisdom, The Book of Margery Kempe, and Sir Gawain and the Green Knight, I show how medieval writers are concerned with the evolution of the self toward perfection through their conceptions of charity, "transcendent autonomy," and conversion.
Go to My CV
Teaching Feedback
"Katie Jo is so passionate about what she is teaching and that makes me really excited to learn."
-Student in ENG 106, Introduction to Poetry
"This was one of the most competent and focused class sessions that I have so far observed."
-Faculty Observer in Writing 121

"Katie Jo made this discussion section one of the best I have experienced. She was excellent at encouraging dialogue and critical thinking and was always accessible. The class was organized and she was very helpful, caring, and clearly wanted all of her students to succeed."
-Student in ENG 301, Foundations of the English Major
Alongside nearly a decade of teaching experience, my pedagogical practice is shaped by my extensive training and research in the fields of literature and post-secondary education. Together, these provide the concrete and evidenced methods behind my teaching, and they form the three principles of my pedagogy: first, teaching is a scholarly endeavor worthy of the same kind of theory-based research as my scholarly work in literature; second, truly student-centered teaching requires a constant critical-reflective approach on the part of the teacher; and finally, that the most effective and enduring teaching provides opportunity for students to practice metacognition and self-motivated learning. As a result of this practice, I have a consistently positive teaching record and have earned recognition for teaching excellence from the English departments at both MSU and UO. Last year, I received the English department's single nomination out of more than 65 eligible teachers for the university-wide Graduate Teaching Excellence Award out of more than 65 eligible teachers in the Composition Department.
I am wholly committed to serving the needs of my students, colleagues, and the broader community and am an earnest collaborator. I enthusiastically take leadership roles in my community and serve where I am needed. In the past this service has included co-teaching a series of sacramental preparation classes for confirmandi at Blessed Sacrament Parish in Seattle, leading an after-school reading club at Bailey Gatzert Elementary School, and volunteering at St. James Cathedral and in the Seattle L'Arche community. I have served on several departmental committees and have presented annually at the University of Oregon's Composition Conference. I actively participate in several reading groups, including the Center for Study of Women in Society's Inclusive Pedagogies Research Interest Group.